How to properly store cryptocurrency in 2022. Overview of wallets
How to store cryptocurrency in 2022 properly - Payperless reviewed the affordable and solid ways to do it. Review of different types of crypto wallets in the crypto market.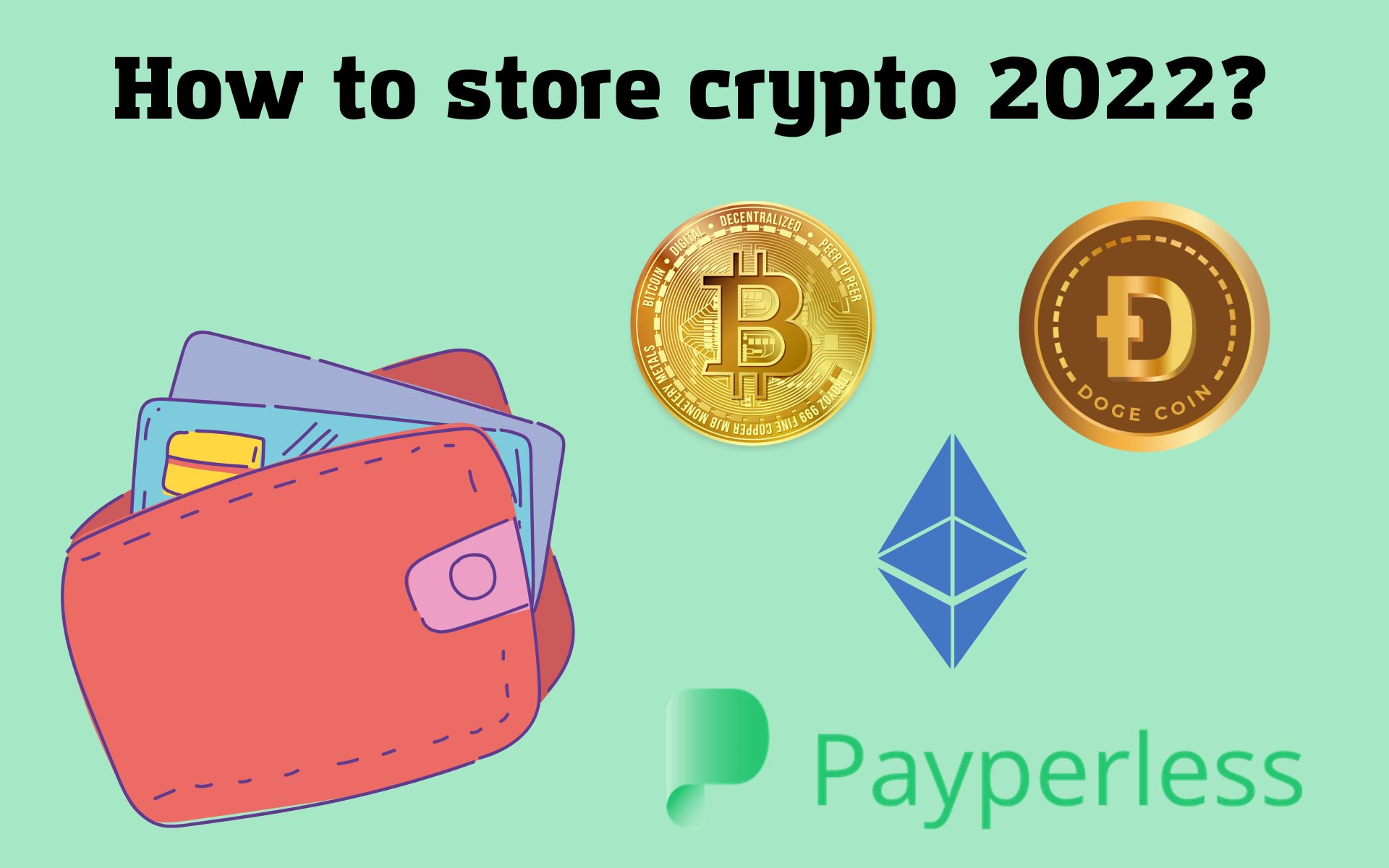 What to choose - a hardware, an exchange or a software wallet. What are their differences and what tasks are best suited for them?
Many often say that cryptocurrencies are "stored" in wallets, but that is technically incorrect. Funds are stored in a blockchain: a distributed, decentralized ledger that is the backbone of the cryptocurrency ecosystem. Cryptocurrency wallets, in turn, contain important data that allows the user to access these funds, directly within the blockchain and, if managed properly, ensure that they are stored securely. Today we will discuss the structure of wallets, their classification, and give a list of the most convenient for the end user, in terms of comparing their features.
How are cryptocurrency wallets structured?
Cryptocurrencies usually require special software, which is a wallet program integrated into either a software, exchange or hardware environment. It allows the user to work with the blockchain and create transactions or receive transfers to their address.
Each wallet, regardless of its environment of operation, contains a private and a public key.
A public key is a numeric string that anyone can see. It consists of a set of letters and symbols and is used when sending funds to a wallet.
A private key is a kind of security key consisting of a series of random numbers generated cryptographically that cannot be cracked. It is essentially a hexadecimal number consisting of 256 bits or 32 bytes that is created to sign translations.
The signed transaction is sent to the network and, once approved, reaches the recipient.
Is it safe to use cryptocurrency wallets?
In cryptocurrency systems, the security and integrity of your account is guaranteed by a network of agents (segmented file transfers or multi-source file transfers) that are verified by miners. They protect the network by maintaining high-speed processing algorithms.
Cracking the existing security in cryptocurrency is mathematically possible, but the cost of achieving it is unacceptably high. For example, an attacker attempting to cheat the BTC blockchain and conduct a "double-spend" would need processing power that exceeds that of all miners in the system. But even then, he won't have all the control capabilities. A hacker needs to cross the 51% power threshold to at least come close to that goal.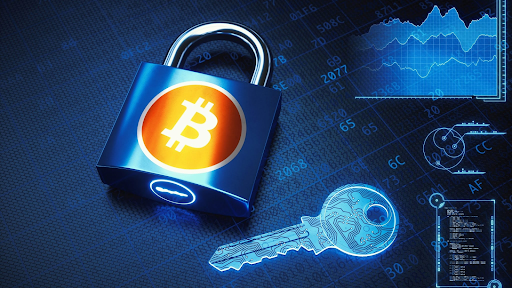 What choice of wallets are there?
A non-custodial wallet is a type of decentralized wallet in which the customer owns his or her private keys. The user receives a file with private keys and must write a mnemonic phrase with which they can regain access to their funds. Having private keys means that the user has full control over the funds. However, it should be kept in mind that full control over the money also means that only the user is fully responsible for his funds.
In contrast, a custodial wallet is a type of digital wallet in which personal keys and backup of all data, i.e., protection, of funds is on the developer's side.
From the user's point of view, a non-custodial wallet is certainly the most acceptable option, because in this case, malefactors will not be able to steal assets, but if we rely on the human factor, and allow the possibility of mistakes, keeping funds in custodial wallets (not in all cases), gives hope for the recovery of lost funds.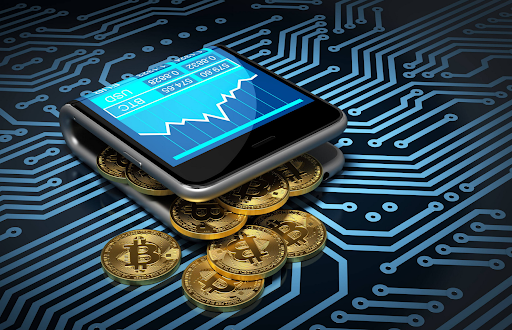 The wallets on which currency is stored can be categorized:
Custodial wallet
Exchanges. For the most part, keys on exchanges are generated and remain on the developer's servers without reaching users' devices.
Software wallets
There are also certain software wallets, such as FreeWallet, which store data on their servers. However, there are not many such services.
Non-custodial wallet
Software wallets. Software wallets can be mobile wallets or computerized wallets that are downloaded directly to your device.
Web wallets
Such wallets are most popular with beginners and people who trade a lot. Web wallets are usually offered on the websites of major cryptocurrency exchanges. They can store any currency purchased, help quickly sell it or transfer it to other users. The popularity of this type of wallets is due to the ability to quickly and easily sell various coins and make transfers right on the website, which is very convenient for novice users. Web wallets are also good because they can be accessed through a browser from anywhere in the world. This allows you to always manage your funds if you need to pay something or make a transfer. The main problem with such wallets is that there are potential risks of hacker attacks, so storing large sums of money in them is very dangerous. Although the respective sites do their best to ensure the security of the wallets offered, they cannot monitor other people's computers and find viruses and spyware on them, which are used by hackers to steal money from their accounts.
Mobile wallets
Mobile wallets are commonly used to store small amounts as well as very large amounts. More and more stores around the world are beginning to accept payments in Bitcoin or Ethereum, so it is convenient to store some of these tokens in a mobile wallet in case the user needs to pay for something.
Paper wallets
A paper wallet is considered the most secure mechanism for storing cryptocurrencies. To use them, the user prints keys on paper and integrates them into an online wallet.
So, where to store cryptocurrency after all?
Storage of cryptocurrency assets is the most important part of the job for any investor. So, the choice of storage should be approached very responsibly. As the most popular options, there are three subcategories: software, exchange, and hardware. Today, we'll do a whole comparison of functionality, and figure out which ones will be most suitable for the specific tasks of each kind of user.
Review of software wallets
The program wallet is one of the most widespread methods of storage, which implies multiplatform, fast access to your money, and relative safety. It should be understood that each program wallet, one way or another, is tied to its physical medium, and its loss, in most cases, will lead to irretrievable loss of funds.
Payperless Crypto Wallet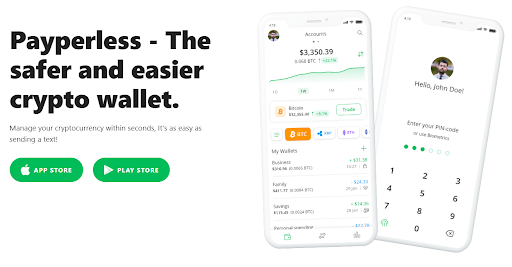 Payperless is top of the list of the safest crypto wallets. Of course, there are different crypto wallets on the internet. For users that need advanced functionality, the Electrum crypto wallet is a preferred option.
More information about Payperless Crypto Wallet here.
Universal crypto wallets are wallets that can hold multiple cryptocurrencies. They allow easy transactions and swapping of the different crypto options available. Payperless provides a universal crypto wallet option as it can hold several cryptocurrencies in its wallet. To transact with any cryptocurrency, you should consider Payperless as your choice crypto wallet because of its universal crypto wallet option.
Blockchain Wallet
Blockchain Wallet is by far the most popular digital wallet that allows users to store and manage their cryptocurrencies fully. Blockchain Wallet is maintained by Blockchain, a software development company founded by Peter Smith and Nicholas Carey. Blockchain wallet allows you to make transfers in cryptocurrency and convert them into currency.
Pros:
Support for a mobile app, with a well-designed UI/IX;
Web interface support;
Support for leading cryptocurrencies;
Open source code is freely available.
Minuses
In case the intruders managed to get access to the user's mail, they can easily cash out all the money stored in the wallet;
Lack of a desktop version of the wallet;
Storage of keys on developer's side.
Conclusion. Blockchain Wallet is the most popular place to store funds, however, the level of security leaves much to be desired. Blockchain allows users to store funds in relative safety, and aims for convenience as much as possible. This option may be considered if the user is not going to keep large sums of money and is new to the crypto-space, for whom simplicity of functionality is important.
Coinbase Wallet
Coinbase Wallet is an application that allows users to store their own cryptocurrency and interact with the blockchain through a decentralized application. This wallet combines the versatility offered by its predecessor Toshi Wallet with the support offered by Coinbase. In this wallet, the user can not only store ETH and ERC tokens based on the Ethereum network, but also interact with BTC, BCH and LTC.
Pros:
Support for a mobile app, with a superior UI/IX;
Web interface support;
Support for leading cryptocurrencies;
Cons:
Storage of keys on developer's side.
Lack of a desktop version of the wallet;
Lack of open source code in free access.
Conclusion. The Coinbase wallet provides an excellent alternative for storing your funds. Firstly, it generates sigs for security, secondly, it allows you to protect the app from the use of a fingerprint reader. All in all, it is a very simple and easy to use app, but with lots of tools. Moreover, this wallet is supported by Coinbase. On the other hand, it can cause some inconvenience. When opening some decentralized applications, the browser may freeze, which will not always allow you to make a transaction in seconds, as will be required by the quality standards set by users.
Trust Wallet
Trust Wallet is a mobile app that allows you to send, receive and store cryptocurrency tokens in the Ethereum blockchain. Designed with a focus on simplicity, the open-source portfolio aims to provide a platform that is easy to set up and use. Trust Wallet allows users to store their private keys on their devices and provides a backup feature for easy recovery.
Pros:
Allows you to store any ERC token;
Private keys are stored on the user's device;
Ability to work with decentralized applications (dApps);
Cons:
Lack of support for many tokens;
Does not provide two-factor authentication;
Non-user-oriented interface design.
Conclusion.Trust Wallet includes a built-in Web3 browser that makes it easy to explore decentralized Internet applications. This application meets quality and security standards and is optimized to perform at a high level. Trust Wallet is great for those users who are not too picky about the functionality, and do not have the need to keep a large portfolio of different non-ERC tokens.
Guarda
Guarda is an Estonian project that is a hybrid of all types of wallets. It has the ability to functionally use all types of cryptocurrency solutions in one place, use from a browser or download a desktop application. Guarda supports more than 45 coins and is compatible with all modern token standards.
Pros:
Mobile application support
Web interface support
Desktop support
Private keys are stored on the user's device;
Open Source
Web3 support
Support for a huge number of tokens
Cons:
No two-factor authentication
Lack of support for Wallet Connect
Conclusion. Guarda Wallet, is a project created by a team of highly skilled professionals. The level of confidentiality and implementation of innovations is at a high level. Summing up all these factors, one can say that Guarda is a reliable wallet for storing cryptocurrency. However, among the negative points that can be noted is the lack of support for Wallet Connect, which does not allow to work with most DeFi protocols and the lack of two-factor authentication.
Atomic Wallet
Atomic Wallet is a unique cryptocurrency wallet that allows managing more than 300 different crypto assets, in addition to the ability to add custom ERC20 tokens. Another feature that this wallet boasts is that it has the ability to conduct atomic swaps, which are based on the implementation of exchanges without intermediaries using smart contract technology.
Pros:
Mobile application support
Desktop support
Multicurrency
Multi-signature
Open Source
Private keys are stored on the user's device;
Cons:
Lack of web interface support
Conclusion. Atomic Wallet is theoretically fully secure for storing funds. The wallet is open-source, which greatly reduces the likelihood of bugs or the introduction of hidden vulnerabilities in the program. Moreover, important data, such as passwords, are encrypted and stored only locally on the end user's device.
Overview of exchange wallets
There is an opinion that keeping funds in exchange accounts is an idea doomed to failure. However, millions of investors and traders all over the world choose exchanges, because only custodial wallets provide for further refund in case of loss of a physical carrier.
Currency.com.
Currency.com is an online platform for trading tokenized assets, designed to make quick and easy transactions with cryptocurrencies. The Currency.com platform facilitates not only trading in tokens, but also other types of financial assets. Recently, Currency has improved its functionality a lot, and now, the exchange, by right, can be called not just a great place to conduct transactions, but also the most secure place to store their cryptocurrencies.
Pros:
Official regulation: the exchange is fully focused on interaction with the user, and keeps his funds in accordance with the legislation of the Republic of Belarus. This reduces non-exchange risks.
Easy deposit and withdrawal: cryptocurrencies stored on currency.com can be easily withdrawn as well as deposited.
Over 1,000 liquid assets that allow you to store not only cryptocurrencies, but also any other financial instruments in full safety and in compliance with the global legislation.
Currency.com can always provide the user with the necessary reports to prove the legal origin of the funds.
Conclusion. Currency.com is one of the best options for cryptocurrency storage for investors who are located in CIS countries. Low fees, fast withdrawal of cryptocurrencies to any payment system, make currency a clear leader in the storage market. End-user security is a priority goal of Currency Crypto-exchange, for which advanced technologies have been used in its development. For example, all necessary data is stored on Equinix's processing servers, with which such giants as NASDAQ and Dow Jones, Frankfurt and London stock exchanges are serviced.
Binance
Binance, currently, is one of the largest cryptocurrency exchanges in the world, and is the most popular among traders. The platform has a huge amount of functionality, and allows you to keep your funds safe, constantly improving its protocols.
Pros:
Large list of supported tokens.
When exchanging cryptocurrency for cryptocurrency, Binance's fees are the lowest in the industry.
Binance takes security very seriously and when registering, users are asked to set up two-factor authentication (2FA), further demonstrating the exchange's commitment to secure storage.
As Binance has become one of the most popular exchanges for buying, trading and selling cryptocurrencies, there are many transactions taking place on its platforms all the time. This is an important factor that allows for quick asset transactions, and if necessary, moving funds around in a way that maximizes the profitability of the storage.
Conclusion. Binance offers a huge number of internal digital wallets for more than 80 cryptocurrencies, including the most popular ones including BTC, ETH, USDT, EOS and BNB and many more; In addition, for those who still find using an exchange wallet unreliable, a "trusted" wallet option called Binance Trust Wallet has been invented, which allows storing Ethereum and over 40 tokens from the decentralized application environment; Trust Wallet, integrated directly with the blockchain, is a wallet that allows full control over assets without leaving the Binance environment.
Coinbase PRO
Coinbase Pro, formerly known as GDAX, is a cryptocurrency exchange and trading platform. This exchange stands out among other things for its low fees and strong security measures (it has never been hacked). In addition, the platform stores 98% of users' funds offline using cold storage.
Pros:
It is currently the easiest, safest and cheapest method of exchange due to low fees.
High platform security by keeping 98% of funds offline and frequent technical and financial audits.
Very good user interface and intuitive navigation.
Wide range of fiduciary deposit and withdrawal options.
Insured deposits.
Cons:
Private keys are stored on Coinbase's servers, which does not insure that users will not gain access to their funds by attackers;
Large volumes of personal data requested: KYC and AML are impeccably enforced on the exchange, which will not allow full interaction with the site without entering your personal data into the database.
Conclusion. Considering all its features, Coinbase Pro is undoubtedly one of the best exchanges on the market, if the user is not confused by the amount of personal data requested.
Huobi
Huobi is a fairly secure, trustworthy platform that has managed to maintain a positive reputation, free of issues related to fraud or significant failures. Although today, due to active restrictions on cryptocurrencies in China, its jurisdiction has shifted to other countries, Huobi continues to increase transaction volume and provide users with safe storage of funds.
Pros:
High liquidity;
Has an interface that is compatible with mobile devices.
Cons:
Operating fees are quite high;
Provides several ways to fund your account.
Conclusion. Huobi Exchange has invested heavily in security and has undergone many third-party tests. They offer two-factor authentication, SMS and email notifications, and PGP encryption. Over 98% of customer assets are stored in a cold wallet with multiple signatures, providing a high level of security for the funds stored on it. By the way, the exchange was once hacked, however, the attackers failed to steal user funds.
Hardware wallet review
Hardware wallets are physical, electronic devices such as USB flash drives that can generate secret keys and digital transaction signatures offline. They can guarantee complete anonymity. They are much more expensive than other options, but they are easy to set up, back up and use in everyday life. Their security is undeniable, and is the benchmark in cryptocurrency storage.
Ledger Blue
Ledger Blue is a premium hardware wallet released in November 2016 that aims to make storing cryptocurrency the safest and easiest.
Previously described as the most advanced, hardware-based, cryptocurrency security on the market, Ledger Blue features security that is second to none, a large LED display and a rugged design designed for regular use.
Pros:
High level of crypto-asset security;
Compatible with a wide range of devices;
User-friendly interface;
The excellent touch screen is easy to use and increases safety;
Multi-currency support.
Cons:
Impressive cost;
Not as portable as other hardware wallets on the market.
Conclusion. Ledger Blue is the most advanced security hardware on the market. It can run multiple applications and combines enterprise-grade cryptographic capabilities with a lightweight portable device. Manufactured and designed in France, it meets the highest standards. It is built around a secure element with a touch screen and USB and Bluetooth connectivity.
Ledger Nano S
This device allows both the storage of virtual currency and the making of payments. Some of its main features are ease of use, speed of transfers, payments and high level of security.
Pros:
With the security provided by 24 randomly generated words, your crypto-assets can always be recovered.
With a clear OLED display, you can always check your assets in real time.
Cons:
Since the wallet does not have a battery, it must be connected to a computer.
At the moment, the Ledger app only works with the Chrome browser.
Conclusion. Hardware wallet, such as Ledger Nano S, fully provides secure data storage, however, here you should consider the human factor, and not to lose access to the physical media, so as not to lose money.
Trezor
Trezor is a physical device that is not connected to the Internet. They store private keys required to perform cryptocurrency transactions. It is very easy to use for new users as well as for people who already have experience with cryptocurrency transactions and payments.
Pros:
Fully mobile in use (via Android, with OTG cable)
Easy to use functionality
Can be used as a powerful password manager
Supports two-factor authentication
Cons:
Conclusion. Trezor is one of the most trusted companies in the world when it comes to hardware wallets. Their most popular product is the Trezor Model One, which is an affordable hardware wallet with advanced security systems.