What Crypto to buy in 2022 - most perspective cryptocurrencies 2022-2023
In 2022, experts predict the growth of the cryptocurrency market, capitalization growth, and the emergence of new players capable of influencing the course of events.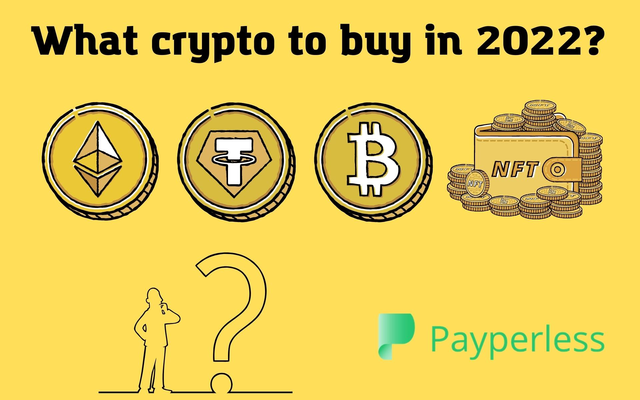 Cheap young cryptocurrencies worth buying in 2022
Successful people are not born, they become successful. This life axiom also applies to the digital world, where all new currencies are obscure and inexpensive at first, but gain popularity over time. Weak players in the crypto market are eliminated, promising ones develop, become influential, their capitalization increases and, accordingly, the value grows.
Those who bet on undervalued cryptocurrencies and decided to invest in them, seeing the potential value in the future, end up "in the hole. As a rule, new digital coins are very cheap at first, but then some of them show such growth in value that even the most optimistic forecasts did not predict.
The first cryptocurrency, Bitcoin, was initially almost worthless, and only a couple of people knew about it, including its creator Satoshi Nakamoto.
Let's look back to 2009: 1 BTC is worth $0.001. Let's look at what happened in 2021: the rate of BTC exceeded $67,000! $0.001$ → $67,000 = incredible success of Bitcoin cryptocurrency
This is a classic "slumdog millionaire" story. Now bitcoin leads all the cryptocurrency rankings, is on the first line of all kinds of tops, and is the most desirable object of investment. Interestingly, other cryptocurrencies, even the most inexpensive ones today, can go the same way. Success depends on many factors that need to be thoughtfully studied, because a superficial approach and rash decisions are not welcome in the sphere of virtual money.
Today we take a detailed look at the list of cryptocurrencies as the cheapest and most promising for investment in 2022.
Promising cheap cryptocurrencies
"Inexpensive, but with the prospect of growth. This is what they say not only about virtual currencies, but also about other objects for investment. It is the highest skill to find a promising and inexpensive coin at the moment of its inception, before others have had time to consider it, and turn it into an inexhaustible source of income.
In 2022, experts predict the growth of the cryptocurrency market, capitalization growth, and the emergence of new players capable of influencing the course of events. Let's get acquainted with the main contenders, which can "shoot" in the nearest future. Of course, as in any business, there is always a risk of losing the invested funds.
When investing in cryptocurrencies, use extreme caution. It entails a significant risk of losing money.
So, the top 5 cheap and promising cryptocurrencies of 2022.
1. SIACOIN (SC)
Siacoin is not so much a virtual means of payment as it is an innovative cloud storage technology that can protect all your assets even in the event of a force majeure system failure. It is a global decentralized storage that provides users from all over the world with a high level of privacy and information security.
Sia cloud developers use local encryption, which means they encrypt the whole file and each part of it individually. This way, no one is able to find out which files you store on the platform.
Sia is continuously growing and in the future plans to become the main service for decentralized cloud storage on the Internet. Right now siacoins are cheap, and you can buy them on any exchange.
2. TRON (TRX)
A decentralized protocol that allows users to meet their online entertainment needs by taking full advantage of blockchain. The coin started trading only in September 2017 and already in January 2019 it was among the top 10 largest cryptocurrencies in terms of capitalization. This blockchain platform provides users with high-quality entertainment content without restrictions: various applications, games, videos, graphics. Moreover, the service allows users to generate and distribute content themselves, even creating their own internal currency.
TRON's development prospects are related to the prospects of the digital entertainment market, which will be boosted by the growth of digital streaming.
3. VERGE (XVG)
One of the most secure and anonymous coins. Released back in 2014 and designed with a focus on privacy. Verde uses Proof of Work and supports 5 algorithms for mining (Scrypt, X17, Groestl, Blake2s, Lyra2rev2). Currency is constantly evolving and supported by a large number of wallets. It is traded on many exchanges, but the bulk of trading takes place on Bittrex.
4. CARDANO (ADA)
An open cryptocurrency project, which is a decentralized public blockchain. Its authors aim to improve the smart contract platform, which will allow users to create applications and contracts inexpensively and securely.
For the project was developed a new highly secure programming language Haskell, which provides enhanced security for the entire system. To date, it is the most secure programming language.
Investors see Cardano as a profitable option for long-term investment. For a detailed overview of this currency, as well as the prospects of its value growth, see this link.
5. STELLAR LUMENS (XLM)
Stellar is called a decentralized consent platform that supports any type of cryptocurrency. Moreover, it has a built-in decentralized exchange. The developers' mission is to improve the world's financial infrastructure.
Through Stellar, users (people/companies/financial institutions) can make exchange transactions easily and quickly. Thus, they get free access to financial transactions without the need for intermediaries, which significantly reduces costs and increases profitability.
At the Sibos 2017 conference in Toronto, the platform was supported by major industry companies and leading banks. The main prospect of Steller is that it can become the main intermediate cryptocurrency to provide exchange between different cryptocurrencies, which will increase their liquidity.
Cheap cryptocurrencies that could rise in price in 2022-2023
Other interesting and inexpensive cryptocurrencies, which may rise in price in 2022, should not be ignored. Analysts are confident that digital assets such as Ardor, Chiliz and The Graph will show positive dynamics and grow in price. IOTA and Solanium, in their opinion, will also grow and strengthen their market position.
Top 5 cheap cryptocurrencies that could rise significantly in 2022.
1. ARDOR (ARDR)
Ardor is a Blockchain as a service (BaaS) platform that allows you to create your own daughter circuits within the system. Ardor is also positioned as an easy-to-understand and reliable business development.
Through this platform, any company can create its own coins and receive a fee for their transfer. And transactions within the network are practically lightning fast: it usually takes 60 seconds, or even less. he various organizations and companies that use blockchain technology to scale and strengthen their businesses view Ardor as an efficient and affordable solution.
2. Chiliz (CHZ)
A cryptocurrency aimed at developing a sports and entertainment blockchain ecosystem. Sports and cybersports teams sell their own fan tokens, and fans buy them for CHZ. Thereby giving their favorite team financial support and getting the opportunity to participate in the management of teams and events.
In the voting process, they can make team-related decisions (uniform design, team composition for a particular friendly match, etc.) as well as league-related decisions (league format selection, new titles, etc.).
Every Chiliz cryptocurrency fan's decision directly affects the life of the team and its operations. And they are willing to invest in this opportunity.
3. IOTA (MIOTA)
A cryptocurrency without commissions or miners. It was created as a means of payment for the implementation of the Internet of Things (IoT) concept. The absence of commissions allows IOTA to be used for micropayments (e.g., 1 RUB). It is also a fully self-sustaining network: there are no miners, and users confirm transactions of other users. Tangle technology is used instead of the usual blockchain.
What's innovative about it? The principle of operation itself. IOTA is made according to the principle of the web and is infinitely scalable.
In addition to a convenient means of payment for IoT implementation, this platform allows users to trade online: rent out their equipment, hard drive space, sell free megabytes in electronic databases, and large companies - data about their products.
Cheap, secure and infinitely scalable - that's what the creators of IOTA are betting on.
4. The Graph (GRT)
The Graph is a decentralized and open protocol for indexing data from the blockchain and providing easy access to it.
Just as we use Google to find information on the Internet, developers use The Graph to create blockchains.
Today, The Graph is used for applications in DeFi and the Web3 ecosystem. The protocol supports indexing data from Ethereum, PoA, and IPFS. Future plans are to include support for other networks.
The working token of the ecosystem, GRT, is an ERC-20 standard token on the Ethereum blockchain. It is used to distribute resources on the network.
5. Solanium (SLIM)
Solanium is a decentralized Solana blockchain-based platform designed for fundraising in the Solana ecosystem, time-weighted token placement and management voting. Fundraising and further management of the platform is done with SLIM tokens.
Created as a DeFi platform, Solana has solved one of the most pressing problems associated with ether, namely the reduction of commissions. In addition to cheap transactions, the platform provides a high execution speed (50 thousand per second).
New cheap cryptocurrencies: overview and forecasts
Speaking about the new promising cryptocurrency, it is impossible not to mention those that have appeared quite recently, but which are advised to start watching right now, because some of them can greatly increase in price.
Top 5 cryptocurrencies worth buying in 2022
1. OMG Network (OMG)
This cryptocurrency is based on the idea of accessible virtual money. Universal and easily convertible, it has a unique property: one user can send digital assets to another country, where another user can receive them in the form of fiat money. Vitaly Buterin himself (author of the popular Ethereum) and other famous personalities of the cryptocurrency world had a hand in the creation of this cryptocurrency.
2. biswap (BSW)
BSW is an internal token of the DEX exchange Biswap, operating in the Binance Smart Chain (BSC) network. The platform features low transaction fees (0.1%) and uses various incentives to attract users (e.g., a 3-type referral program).
Biswap offers tools for cryptocurrency exchange, farming and stacking (in the community such platforms are called "swap" (from English swap - exchange).
The internal token of the BSW exchange is now quite cheap, and its farming is quite profitable.
3. MovieBloc (MLB)
MBL is the service token of MovieBloc, a decentralized movie distribution platform.
This is an OEP-4 token that is used to pay for services in the MovieBloc ecosystem (e.g., premium content, translation, etc.). It also rewards users for reviewing movies and identifying illegal content.
4. APENFT (NFT)
Apenft is an internal token service for tokenization of art objects (conversion into NFT tokens on Ethereum and Tron) and subsequent work with them. It is an ETH standard coin, which is traded on leading exchanges such as Binance.
According to the creators' idea, the APENFT project will help tokenize world-class works of art by creating a kind of channel between artists and the NFT-industry.
APENFT's main activities: investing in NFT's best platforms and artworks, incubating leading NFT artists, sponsoring galleries, organizing exhibitions, creating art collections, etc.
5. Spell Token (SPELL)
This is the control token of the Abracadabra.moneu platform. Users can use it to deposit cryptocurrencies at interest to issue Magic Internet Moneu (MIM) stabelcoin. MIM is paired with other staplecoins, including Tether (USDT), Dai (DAI) and USD Coin (USDC).
Users send SPELL to Stacking and receive sSPELL tokens in return, and with them, the right to participate in voting on the platform and receive commissions generated by the protocol.
The cheapest cryptocurrency today
Today it is no surprise to anyone that electronic money can be a source of full-fledged income. And why should we be surprised: we have been living in a digital world for a long time, to a greater or lesser extent. But what used to seem like the fiction of authors of books about a fantastic future (robots, artificial intelligence, virtual money) is already our everyday life.
And as digital technology develops, we are moving deeper and deeper into a world where we don't need the usual wallet and don't have to go to the bank to open an account. Where you can earn by renting out space on your hard drive and convert the likes received on social networks into real money.
We are finally ready to use cryptocurrency as a medium of exchange. The cryptocurrency army numbers in the thousands of coins and tokens. But new players emerge every day, with unique characteristics and great prospects.
After reading this article, you already know which cheap and reliable coins to watch out for in 2022, how much they are worth now, and what predictions experts give about their potential in the future.
Next, consider the exchanges at which you can buy the cheapest and most promising cryptocurrencies today for rubles, hryvnias, dollars, euros and other fiat money.
Where to buy cryptocurrency cheaper
There are a lot of cryptocurrency exchanges now, just like the virtual coins themselves. But we want to make money on it, which means to buy cheaper and sell more expensive, right?
That's why we tell you about the cheapest way to buy promising cryptocurrencies. Which inexpensive currencies are worth buying in 2022 - you already know.
Exchange cryptocurrency in your wallet - this feature is available in the Payperless app

Buy bitcoin through a crypto ATM in the U.S. and other countries

There is always an option not to buy cryptocurrency, but to start your own business and earn steadily

Read more about crypto ATMs and the business on them here.
FAQ
How to look for promising cryptocurrencies?
Take an interest in what is happening on the crypto market. This means reading expert reviews, analysts' forecasts, information on forums, where users share their opinions about which cryptocurrency will grow in the near future. And look for profitable solutions for yourself.
What is the most promising cryptocurrency?
To assess the prospects of a new crypto project, it is necessary to pay attention to the following indicators: the reputation of the developers and team, the presence of unique technical solutions and clear grounds for further growth and development (preferably a roadmap), the uniqueness of the project, the liquidity of the coin (the higher, the better), etc.
About the cryptocurrencies with the highest growth potential, we told above.
Which cryptocurrency will take off?
No one can give an exact answer as to which cryptocurrencies to invest in and what is 100% profitable. One promising cryptocurrency for growth can turn out to be a profitable investment, while another will turn out to be a "nothing. A coin's success depends largely on the actions of the team, as well as unique technical solutions and practical applications of the tokens. But the crypto market is so unpredictable that even having a good product and the team's fast-growth plans do not guarantee that the currency will rise in price. All possible risks associated with crypto are the responsibility of the investor himself.
Conclusion
To identify promising altcoins to invest in 2022, look to the currencies we've described. But as you think about which crypto is worth buying, keep in mind that the cryptocurrency market is regularly updated with new coins.